---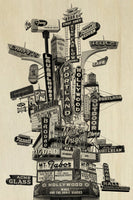 This "Portland Marquee Totem" piece was created by printing directly on birch panels using UV coated pigment ink, then a light coating is applied to protect it. The resulting effect gives my cityscapes a sharp contrasting sepia tone over a natural soft backdrop. The wood medium is perfect to represent a piece of Portland, Oregon - also nicknamed "Stumptown" 


This piece is ready to hang as is! No framing is needed!
Note: Due to the organic nature of wood, there will be slight variations of grain and color for each piece.

The 5x7 size is available at Sidestreet Arts in Portland, Oregon
Also Note: Due to the City of Portland trademarking the Portland Oregon sign, I am not making any more of these prints, once they are sold out, I will not be producing more.