---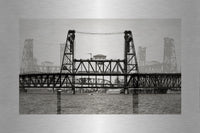 This piece of the Steel Bridge in Portland, Oregon was created by printing directly on aluminum with UV coated inks. 

This piece shows 3 angles of the Steel Bridge from the Eastside Esplanade, the Burnside Bridge, and the Westside Esplanade...fully seeing the multimodal functionality. It is the only bridge that supports cars, trains, bicycles, and pedestrians. The faded views of the vertical lifts are ghosts of the East and Westside perspectives. 
This piece is ready to hang as is! No framing is needed!

These are made to order, so allow for 10-14 days for delivery.